"Area grandmother comes forward as Banksy" - The... →
The Onion do make me laugh, I don't know how I've never seen this before. Cracks me up proper. For the record, I'm male and I don't have any grandchildren… yet.
9 tags
8 tags
6 tags
6 tags
Anonymous asked: are you really bansky? lol just wondering
5 tags
Anonymous asked: Well i'm sure you're not the real Banksy but on the off chance you are id like to say something. What happened man. I read somewhere you used to be a real graffer. Why'd you sell out and cash in on this stencil/street art bullshit. Fuck you. Team Robbo. Oh and stop biting off Blek, if you're gonna sell out at least get your own style. Twat.
5 tags
17daysofrain asked: Hello :) I'm a huge fan of your work! i was wondering something though. Last year i watched exit through the gift shop in an art class and we discussed it and i brought up this question. Was it purely a project of yours revealing the commercialization of art today or a true documentary of Thierry Guetta aka Mr. Brainwash?
4 tags
piecesof-thepeoplewelove asked: Any posibillities for you to come and meet mexico and maybe make a graffiti? :D
11 tags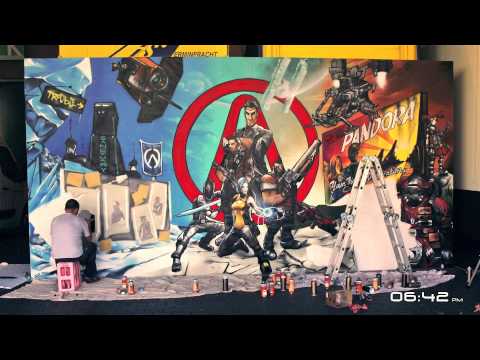 11 tags
10 tags
11 tags
5 tags
SUBSISTENCE: Review: Mr. Brainwash at Opera... →
I do love Mr. Brainwash - or Thierry as his friends call him. Filming him for my little film project "Exit through the Gift Shop" was a lot of fun! I quite like this Tumblr as well - I'm actually more a pie-and-a-pint man myself so I won't be going to any of these cool bars, but their taste in art is clearly very good. subsistenceco: Mr. Brainwash hardly needs an...
6 tags
5 tags
logicvsreason asked: Robin Gunningham <--- by the way this is banksy he came froward 3 years ago in order not to get in trouble with the law. You need to really just get a life
8 tags
7 tags
A fake Twitter that's "attempting" to mock me →
This Twitter feed isn't me by the way, even though it's called "Banksy Ideas". I don't think people should be allowed to take on other people's identities like this. I'd report him if I wasn't anonymous! Some of the ideas on there aren't bad, mind you. Might even copy a couple!
6 tags
6 tags
Anonymous asked: I know you won't publish my last comment so that your followers will realise your not banksy. Further proof of your guilt.
6 tags
Anonymous asked: Your clearly not banksy he already has a website and has stated that anyone pretending to be him on social networking sites isn't him. Secondly, if you were going to pretend to be someone your not in order to amuse yourself you might want to research a bit more precisely into the person your attempting to be. Maybe writing in a similar manner as them would be a good start. As well as this at...
5 tags
6 tags
Banksy's FAQs and his response
underthegreysky: Can you donate a picture for my charity auction? What are you? Blind? In which case maybe. I mostly support projects working to restore sight and prevent eye disease. Or as I like to call it 'expanding the market'. It's actually because I have bad eyesight myself. Hence the big glasses (and even bigger ones when I'm out at night in my disguise).
7 tags
jensnapbowls asked: Is your moustache real? :P
5 tags
whatwewillneverknow asked: I hope you aren't the real Banksy because your typing style isn't as cool as I had hoped ;(
9 tags
6 tags
Anonymous asked: Is the reason that you explicitly describe "what you've done here" because you believe we aren't intelligent enough to come up with our own meanings? Aren't artists generally SUPPOSED to leave a little bit of room for the viewer to interpret what they can? <--- Reason #1 I don't believe that you're Banksy. If you are, I loose all respect for you seeing that...
7 tags
4 tags
Anonymous asked: Banksy, you are so funny. You have a political statement to make and then you add stuff like "The ninja boy is there because I like ninjas" hahaha. Nice work man. Can't wait for your new stuff.
7 tags
themudguts asked: if this was really you, couldnt the police just track down your ip and find you?
rude-grrrl asked: fuck you fake banksy ! FUCK OFF PRICK!
5 tags
infinity-and-beyond-slut asked: I am doing an art project on you, can you explain to me what the picture with the panda with guns means? :)
6 tags
6 tags
Anonymous asked: I don't click internet "surprises" because they are usually diseased wangs. Why do you hate me Banky?
8 tags
5 tags
Banksy on Pinterest →
I've got one of these Pin-interest boards now as well. Take a look…
6 tags
7 tags
5 tags
Anonymous asked: I just wanted to say that you have changed my life. I honestly felt lost until I discovered your work. Now I make my own stencils as well as have my own tag, nothing too special, but the feeling of putting my art work out there for the world to see, however crude it may be, is amazing. So I'd just like to say thanks, you're truly an inspiration.
8 tags
5 tags
7 tags
All That Is Interesting: Four Awesome Graffiti... →
all-thats-interesting: Steve Powers/ESPO Steve Powers (aka ESPO) was a graffiti writer most popular in NYC who had consistently blurred the lines of illegal and legal graffiti. His graffiti writing usually took place during the day and generally involved tagging closed storefronts under the… Yep, I'd agree with all of these. Some great talent in there and some really nice...
6 tags
1 tag
Anonymous asked: the last thing banksy would do is make a tumblr page for himself telling people about his work especially because his street art is so metaphorical and is to be interpreted by the by-passer. how pathetic of you to try and pass of as him.
6 tags
Anonymous asked: please marry me so that we may make sweet, sweet art together
6 tags
Anonymous asked: If you are the real Banksy you have been a huge inspiration to me for continuing to create art. If you are some imposter I hope you rot for pretending to be something you're not.
7 tags
Anonymous asked: You, my good sir, are a legend
6 tags
infinity-and-beyond-slut asked: Can you actually prove this is the real banksy? Because I love your work but it would be horrible if this was someone just ripping you off